Team Sport Decals
Team school club fundraiser vinyl decals team spirit fundraiser decals. Sports team vinyl decal make great fundraisers and support. Team sports logo decals. Personalized decals with player names and numbers available. Show support with team sports decals. For individuals or as a fundraiser decal at team sporting events.
Custom team sports decals for fundraising
Send us your team's logo, quantity, and size―we'd be happy to provide a quote for your sports team decals. Free artwork design with each order of sports team decals. Excellent fund raisers: a $3 team sports decal sells for $10. Supporters will gladly buy them to support your organization's fundraiser, and just 100 team sport decals can turn $700 profit in a few days!
Order a few team sport decals
Many schools and children's sports teams order decals in quantities of 100, and reorder when running low on team sport decals. Generate immediate fundraiser profits and control your sport team decal quantities as needed. Large clubs and sports teams can order in larger quantities for greater team decal fundraiser returns.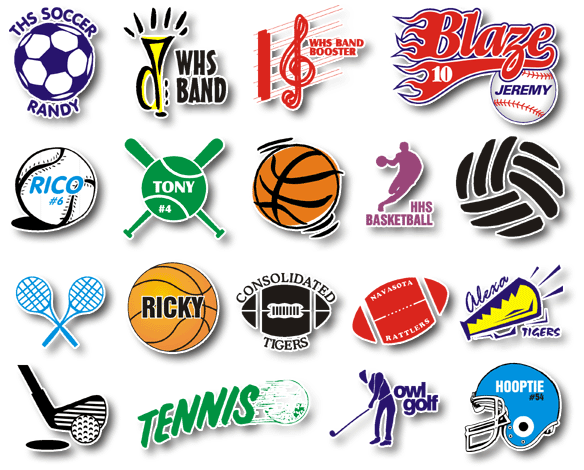 Sports team decals as fund raisers
You would have to sell about 5 candy bars to equal the fundraising profit from a single team sport decal. Why bother? Our team sport decals sell themselves. Additionally, a special edition or Booster Club team sports decal can be sold for higher prices to community businesses and supporters for greater fundraising. To prepare an order for sports team decals, take names from team members or sports fundraiser supporters who intend to purchase a team decal. If you wish to personalize the team sport decals with names or numbers, collect that also. Then send us the list with your sports team's custom logo and we will show you what your new team sport decals will look like! Team decal pricing depends on quantity, size, and graphic complexity.